The Heart of Galway's Heritage
Step back in time and enjoy one of Galway's most popular heritage attractions. Katie's is a restored thatched cottage that depicts traditional life in one of Ireland's oldest fishing villages. After enjoying our authentic turf fire, with tea, scones or homemade Irish Guinness brack, step inside our specially curated design studio at the rear of the cottage to discover some of Ireland's best contemporary & vintage interior home accessories & unique 100% Irish gifts.
While the Claddagh design is well known, less people are aware that the goldsmith who created the ring was from a village on the outskirts of Galway City. Due to it's inhabitants being forcibly removed in the early 1930s, much of this area's history has been forgotten. Katie's Claddagh Cottage is therefore dedicated to rekindling interest in this culturally rich heritage, thus providing you with a genuine experience of what life was like before the village was destroyed.
Katie's is a hub of designers, crafters & storytellers who are dedicated to sharing with you some of Galway's most culturally significant heritage.
Join us for a narrated visit, storytelling & tea and scones in front of an old turf fire or step into our studio to view our exquisite, unique collection of Irish design.
Failte Ireland Approved. Featured on Discover Ireland & Wild Atlantic Way.
See what CNN says about Katie's Claddagh Cottage. Click on this lovely video below.
Located only 400m from the Spanish Arch, behind the fire station in Galway City.
Click to read the history of the Claddagh Ring.
This hub of artisan activity is an opportunity to experience traditional Claddagh community life as it was during the 17th - 20th century.
This hidden gem is an opportunity not to be missed.
"We look forward to meeting you... The Kettle is on!!"
Our History:
Katie's Claddagh Cottage: Community, Culture & Heritage.
The Claddagh, one of the oldest recorded fishing villages in Ireland (dating back to the 7th Century), up until the 1930s was a thriving centre for many different trades, including boat-building & a range of workshops where they crafted tables and other household items, as well as traditional Irish Hookers boats (Húicéir).
Fishing
At one time, there were more than 200 fishing boats in the harbour. Over a hundred years ago there was a regatta (gathering of boats), where 400 boats raced in Galway Bay.
The King of the Claddagh was the leader of the fishing fleet. His boat, distinguished by white sails (as opposed to distinctive red) would lead out the fleet of Hookers for fishing. The bigger hookers (Bád Mór) sailed as far as Newfoundland, Scotland & off the coasts of France. The smaller, half boat was called a Leathbhád or a Gleoiteog.
Fish (periwinkles, limpets, cockles, mussels, herrings and eels), harvested by Galway's famous Hooker boats, were the principle food source for many families during the Great Famine of 1845 – 47.
The Hooker fishing tradition died out when large trawlers moved in. This was the beginning of the erosion of the traditional Claddagh identity, as fishing was an integral part of their livelihood and culture. Many fishermen were forced to take on different trades in Galway City.
Cobblers
The Claddagh cobbler was a member of the Lynskey family. Father of the present day 'King of The Claddagh', Mike Lynskey, the cobbler fought in the First World War. Upon his return he set up the Claddagh Forge.
During his time in the 'trenches' he wrote on a regular basis to his girlfriend (later to become his wife) in Ireland. Rediscovered about ten years ago, these 'letters of love' are now on display in Galway Museum.
Stone Trough
Until the 1900s, there was a fully functioning forge in the Claddagh where a blacksmith would make shoes for working horses and donkeys, tools, gates and anything else required by the local community. After forging, hammering or bending hot metal on an anvil, the blacksmith would cool iron down quickly in a trough of water. Revered as a cure for cuts and bruises, ironized water from the forge would be used by locals as a home remedy, as well as a farm cure for livestock.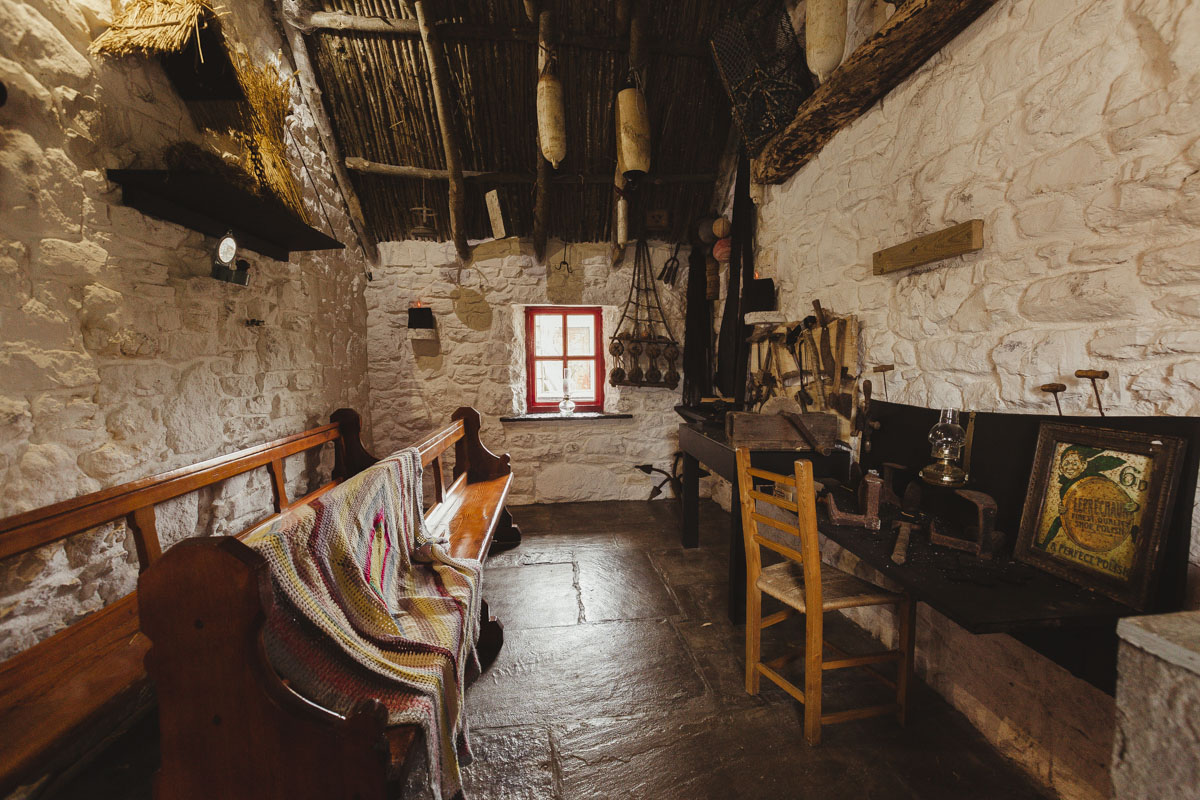 For hundreds of years women played an important role in the fishing community. In addition to 'keeping house', they mended nets and would tie their fishing baskets around their waists (or sometimes carry them on their heads), from which they sold fish at the Spanish Arch market up until the 19th Century.
Due to an old Claddagh tradition, fishermen would not go out fishing if they met a fox or a red haired woman, as this was considered an omen of bad luck.
Our design is entirely inspired by stories from the Claddagh's unique fishing village history.
Handmade rope was integrated into every aspect of Claddagh life.
Our road, now known as Upper Fairhill Road, was once called Rope Walk. Hemp and yarn ropes were made in the Claddagh up until the mid nineteenth century. In addition to fishing, rope was critical to community life (furniture making, farming, thatching). It featured also in folklore, songs & storytelling. All of designs are inspired by traditional Claddagh life, and our signature collection is entirely dedicated to Rope Mythology & History.